Museum of Modern Art of São Paulo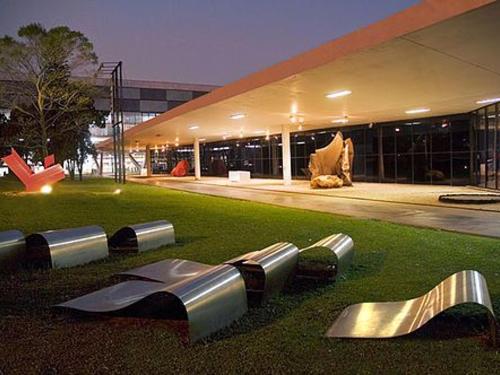 The Museum of Modern Art of São Paulo (MAM) is one of the most important cultural institutions in Brazil.
It is located under a marquee of Ibirapuera Park, in São Paulo, in a building inserted in the architectonic set designed by Oscar Niemeyer in 1954 and reformed by Lina Bo Bardi in 1982 to house the museum.
It is a Non-Profit Civil Society Organization of Public Interest, whose objective is the conservation, extroversion and expansion of its artistic heritage, promotion of modern and contemporary art and organization of exhibitions and cultural and educational activities.
The museum was founded by Francisco Matarazzo Sobrinho, called Ciccillo Matarazzo, in 1948, concomitant to the emergence of the Museum of Modern Art of Rio de Janeiro, both inspired by the Museum of Modern Art of New York (MoMA) and fruits of the environment of great cultural effervescence and socioeconomic progress that characterized Brazil in the 1940s. Throughout its history, MAM has been notable for its cultural agenda agenda and for important initiatives aimed at the sedimentation and diffusion of modern art in Brazilian society, by a creation of the International Biennial of Sao Paulo. In his artists, he also admired a remarkable artistic collection, adding works of some of the most relevant and international of the visual arts in the twentieth century.
Successive institutional crises and financial difficulties led to the founder's disruption with the museum's board of directors, resulting in its temporary extinction and donation of all of its assets to the University of São Paulo (which uses as a base its Museum of Contemporary Art) .
today focused on contemporary art, despite its denomination. It remained, however, as an important reference in the cultural life of the country.
The collection now has more than 5,000 pieces, a product produced by active Brazilian artists from the 1960s onwards. It maintains the Sculpture Garden, an area of ​​6,000 square meters designed by Roberto Burle Marx, where works of the open-air collection are exhibited. It owns one of the largest libraries specialized in art of the city of São Paulo, with more than 60,000 volumes, in addition to a sector of own publications, responsible for the edition of catalogs and the magazine Trimestral Moderno.
Since 1969 he has organized a biennial Panorama of Brazilian Current Art, one of the most traditional periodical exhibitions in the country and important for an expansion of the collection.